Tips
Trying the New Flattr
Flattr is a service that enables you to support creators on the Internet with micro-payments. It is not entirely new but has recently been revamped with the objective to make it much user-friendlier. The change has been significant enough to take a fresh look at Flattr 2.0.
How Does It Work?
Flattr forms a connection between creators and contributors. Creators offer something for free and contributors show their appreciation with a small donation.
Creators start by registering their websites[1. You need to be able to add a meta tag to the header.], social media channels, video channels, podcasts or others with Flattr. At the other end, people sign up as contributors and set a monthly total amount (min. $3) that they want to give away to creators.
Whenever a contributor visits a website or other works of a creator, a browser extension calculates a share depending on how much attention[2. How long you stay and if you interact with the page, while the page is active and in front.] this work receives. These bits of attention are called "flattrs".
This extension seems to be the main difference compared to Patreon, which is more like a crowdfunding platform where fans contribute towards a monthly goal and receive rewards from the creators.
There are some ways how contributors can fine-tune their micro-payments: They can manually send a flattr by pressing a button in the extension's menu. They can also exclude a website or undo Flattrs on their dashboard before the donations go out.
Every 30 days, Flattr distributes the monthly budget of each contributor among the creators who have received their flattrs. Splitting the money may result in tiny amounts per one flattr. This, however, makes sure that contributors always keep their total monthly costs under control.
Creators receive 90% of the incoming money. Flattr takes 5% from the earnings for own operations, while they spend further 5% for the money transfer. Until it gains more traction, however, Flattr announced to be fee-free.
The Potential Of Flattr For Creators Of Free Software
Flattr is not only interesting for podcasters, filmmakers and bloggers, but also for people who create free software. And that, of course, is the reason why I am looking into it.
Flattr could be a good addition to the PayPal donation buttons that every now and then receive a click. The problem with PayPal is that once you started using a plugin, you usually don't search anymore for a donation button. With Flattr this could be much easier.
A creator could, for example, receive a donation when users browse the documentation (which, by the way, also takes a lot of time to write and maintain). Creators can also connect their GitHub account.
So, the income might just be a nice gesture or it could also become a tangible amount that helps you cover the costs that are unavoidable when you offer something for free.
Using Flattr As Creator
Signing up as creator was fairly easy, although you have to be ready to submit some personal information like date of birth, nationality and country of residence. This requirement was not invented by Flattr but the law demands accountability for the flow of money.
The payment provider also needs a scan of an official ID or passport. This was a bit tricky because Flattr writes that you can blacken the number. When I did so, however, the scan was initially rejected[3. The error said: "Document is unreadable, e.g fuzzy or blurry, or the MRZ band (The machine readable part at the bottom of a passport) is not complete, must be perfectly readable."] as unreadable because I also blackened the number in the machine readable part on the back side. I don't really understand, however, what sense it would make to blacken it only on the front side.
As creator you have your own profile page that you can use for promotion. Mine is here.
I cannot report much about the income yet. There have been 6 flattrs in January that correspond to a yet unknown amount of dollars. Before you can withdraw your earnings, your balance must be at least $10. Flattr definitely needs a much bigger user base in order to generate some money. Until then, I will keep it running and evaluate it later. Since there are no fixed fees, the worst that can happen as creator is to end with zero earnings.
Using Flattr As Contributor
As contributor you subscribe with a credit card and set a monthly amount. Payments are in US$, so you have to consider exchange fees if your bank account uses a different currency. You can be contributor and creator at the same time, and the two budgets (incoming and outgoing) will be separate.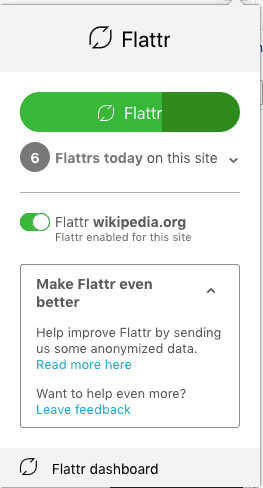 When you visit a web site, the extension[3. Available for Chrome/Opera and Firefox.] checks if this domain is on a Flattr- (later possibly community-) curated whitelist. If not, you need to manually turn on flattring for this site. This additional step is a precaution so that you won't spread your flattrs all across the Internet.[4. Edit: I submitted a feature request for an option to additionally enable flattring only on pages that actually have a flattr meta tag.]
If the domain is on the whitelist, or after you turned on the toggle, you see a progress bar inside the green "Flattr" button moving while you stay on the page and scroll around. Once the progress bar has reached the end of the button, it counts as 1 flattr.
I don't know what else makes the progress bar move but it seems that just by loading the page and without any interaction this domain won't receive any flattrs. If you continue interacting on a page or domain beyond a completed flattr, you will give 2 flattrs, and so on.[5. With a maximum of 5 flattrs for text and 7 flattrs for videos.]
On your Contributor Dashboard you see the Flattrs you gave (almost) in real time as a list of pages and their creators with the tentative amount that they receive. The amount is calculated from all flattrs you have made so far. While you continue giving flattrs during your 30-day subscription period, the value of one flattr shrinks accordingly.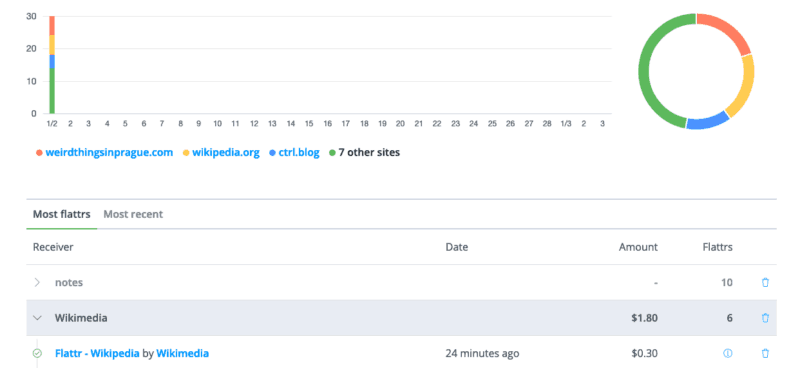 Some Thoughts About Privacy
There are privacy concerns around the extension that sends over some metadata about your browsing behavior to their server.[3. The extension contains an offline list of creators' domains where flattring is enabled by default. Although websites can already be identified through the embedded meta tag, it seems that the extension still sends a notification about each site that receives a flattr because Flattr uses these insights to promote their product.] Flattr says that most of the metadata collected stays on your computer and they receive only what they need to know. The extension is open source and you can therefore check yourself what it does.
It is, of course, unavoidable that Flattr processes some metadata in order to distribute the money. And both contributors and creators certainly want to see enough details so that they can verify the transactions. Flattr says it will delete this metadata after 1-3 months, in accordance with GDPR.
If you need more privacy, you could for example use one browser whenever you want to flattr creators and otherwise a different one. Or you switch to incognito or private mode if you don't want to leave a trail.
If I compare that to the alternative ways of funding, which are now mainly the PayPal button or earning a bit through advertising banners, I think that Flattr is much more trustworthy. I particularly like that their extension is open source and that they operate their servers under Swedish legislation.
---
Note: This website also accepts Flattr payments.
---