Announcements
Moving Sales to Freemius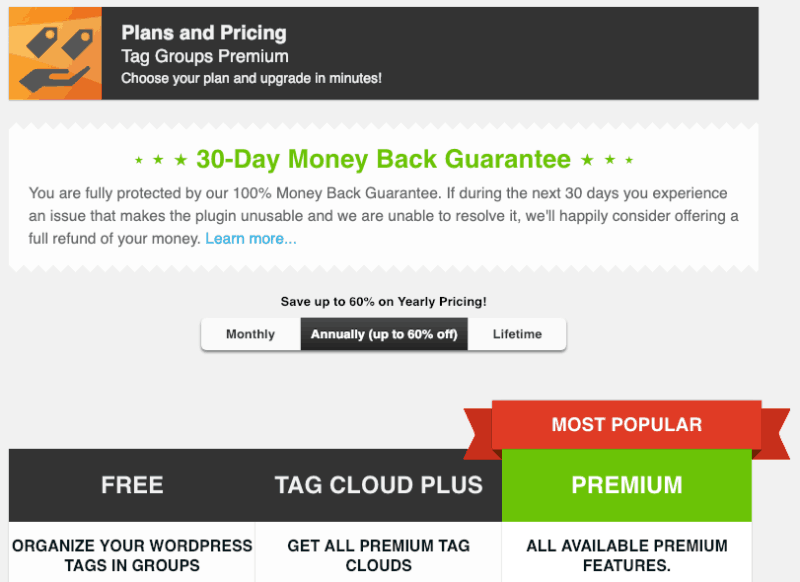 It's now been almost 1.5 years since I launched the WordPress plugin Tag Groups Premium. From the very beginning I was overwhelmed by the positive reception that every new feature has seen.
During the past months, while the plugin and its outreach were growing, I increasingly realized that I had to make several adjustments so that I could cope with the very specific conditions of the WordPress ecosystem.
My commitment to deliver a high-quality product and a service that exceeds expectations convinced me to move the plugin sales to Freemius. This opens up the possibility to integrate sales and customer support tightly into the plugin and to fine-tune licenses. I believe that this decision will bring a huge benefit for all customers.
More plans and free trials
Freemius combines an impressive set of tools with an extremely customer-centered approach and vast experience in selling WordPress plugins. It is now possible, for example, to sell a selection of particular features to people who don't need the entire package. Many users need only some additional tag clouds. And voilà!
With the new platform I am also able to offer free trials of all premium features. The possibility to test the plugin before buying has been a frequent request.
How to buy Tag Groups Premium in future?
The easiest way is to install the free plugin and then upgrade the license in the Tag Groups settings.
You will then receive a download link from where you receive a ZIP-file that you can directly upload to your website.
Will the free Tag Groups plugin change?
There are only some minor changes in the code of the free plugin, most of which you won't even notice. The license model will remain the same, as required by the rules of the WordPress.org repository.
New will be the possibility to opt-in to the services of Freemius. It goes without saying that you can safely skip them and won't be bothered any further. Here, too, we follow the strict rules of the WordPress.org repository and no data will be transmitted without your explicit consent.
You will also notice that the version numbering will jump up to the number of the premium plugin.
Will this change affect past buyers?
Short answer: It won't.
Past licenses will continue to be valid. The delivery of updates works independently of the marketplace and you won't notice any change. Even the contact persons for inquiries remain unchanged: Questions related to a previous purchase at Codester should still be directed to their support, while I am here to assist you in technical issues.
---
I'd also like to take this opportunity to thank Codester for the great cooperation during the past time and also for upcoming years when I will use their services for other code!